AVTO GUMA Inc. Skopje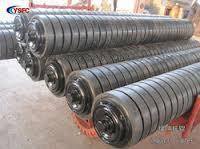 Email: avtogumaskopje@yahoo.com
Street: 518 №. 16
Postcode: 1000
City: Skopje
Country: Macedonia
Phone: 389 2 3113 299
Fax: 389 2 3113 317
Avto Guma Inc- Skopje was established in late 1947 as a manufacturing company, producing rubber accessories, rubber hoses, rethreading tire, making rubber products and all types of rubber-technical accessories for buses.
Avto Guma AD has a production capacity of 10,000 pipes a year, processing 500 tons of mixture and 8000 rethreading tires.
We have 20 employees, with extensive experience in the field includeing technicians, engineers, technicians and economists, who represent significant human captain expressed with the potential to support future investments in the modernization and diversification of production.
In the Macedonian market, we cover for 30-35% of the market, with significant growth potential. We have equipment that completes the whole technological process.